Dear Theatersokrates!
We're sorry to have deleted your upload, but your score was not submitted properly. Please
do not use the "upload file" link to upload scores!
If you upload scores like this, no one will be able to use your submission!
Please read the quick guide to learn how to correctly submit scores.
A longer explanation on this can be found in the
manual
. More details and other ways to use the site can be found at the
Contributor Portal
.
We look forward to future submissions!
Cheers,
KGill
talk
email
22:37, 21 November 2010 (UTC)
Copyright
Hi Thomas. See that you say you are the editor of your recent uploads, but according to the score, it is copyrighted by Amadeo Music, which is an American music company. I tagged it as all permis, but I'm wondering if you either work for Amadeo Music, or if you have permission from the copyright holder (which may very well be you) to host the work heres. Thanks, Lndlewis10 18:15, 24 November 2010 (UTC)

Dear Lndlewis,
as I created my copyright "Amadeo Music" (just as a symbol), I did not know, that sometimes later a company with just this name would be founded. So - after your kind hint - I changed my © and it will further be: "Musica Affondata", a name which should be free for a very long time... I will change all my scores to this name.
So don't worry, my uploads are free for everyone and I hope they are welcome.
My regards to you!
Thomas
They are certainly welcome (!) Thanks for the contributions, Lndlewis10 21:44, 28 November 2010 (UTC)
Completions
Dear Theatersokrates,
Completions are classified as arrangements under our categorization system. Another thing, the items you are uploading are not "Normal Scans" but "Typesets." While it is possible in some counties to place one's work in the public domain, in others it is not. We therefore ask that you use the Creative Commons Attribution 3.0 license, as it is is very close to being public domain - requiring only that you be credited as editor or arranger. If you need to replace a file previously uploaded, click on the file index number and follow the directions to replace the existing version with the new version. Also, it would be best if you do not spell out your full name (Thomas A. Schneider) in the "Uploader" field, as using a name this long causes a line break.
Thanks, Carolus 20:50, 24 November 2010 (UTC) (IMSLP Copyright Admin)
Good job of updating the file! It's actually updated but might take a couple of days to actually appear that way in your web browser due to cache updating. Thanks, Carolus 22:31, 25 November 2010 (UTC)

Nice completions! I have enjoyed listening to them. Carolus 23:32, 26 December 2010 (UTC)
Verwaiste Datei
Hallo Theatersokrates, die Datei File:PMLP174611-Gelobet_seist_du_-_In_dulci_jubilo_-_Lobt_Gott,_ihr_Christen_-_Vom_Himmel_hoch,_da_(alternativer_GB).pdf, die heute aktualisiert wurde, ist auf keiner Werkseite eingebunden und daher nicht zugänglich. Wolltest du anstattdessen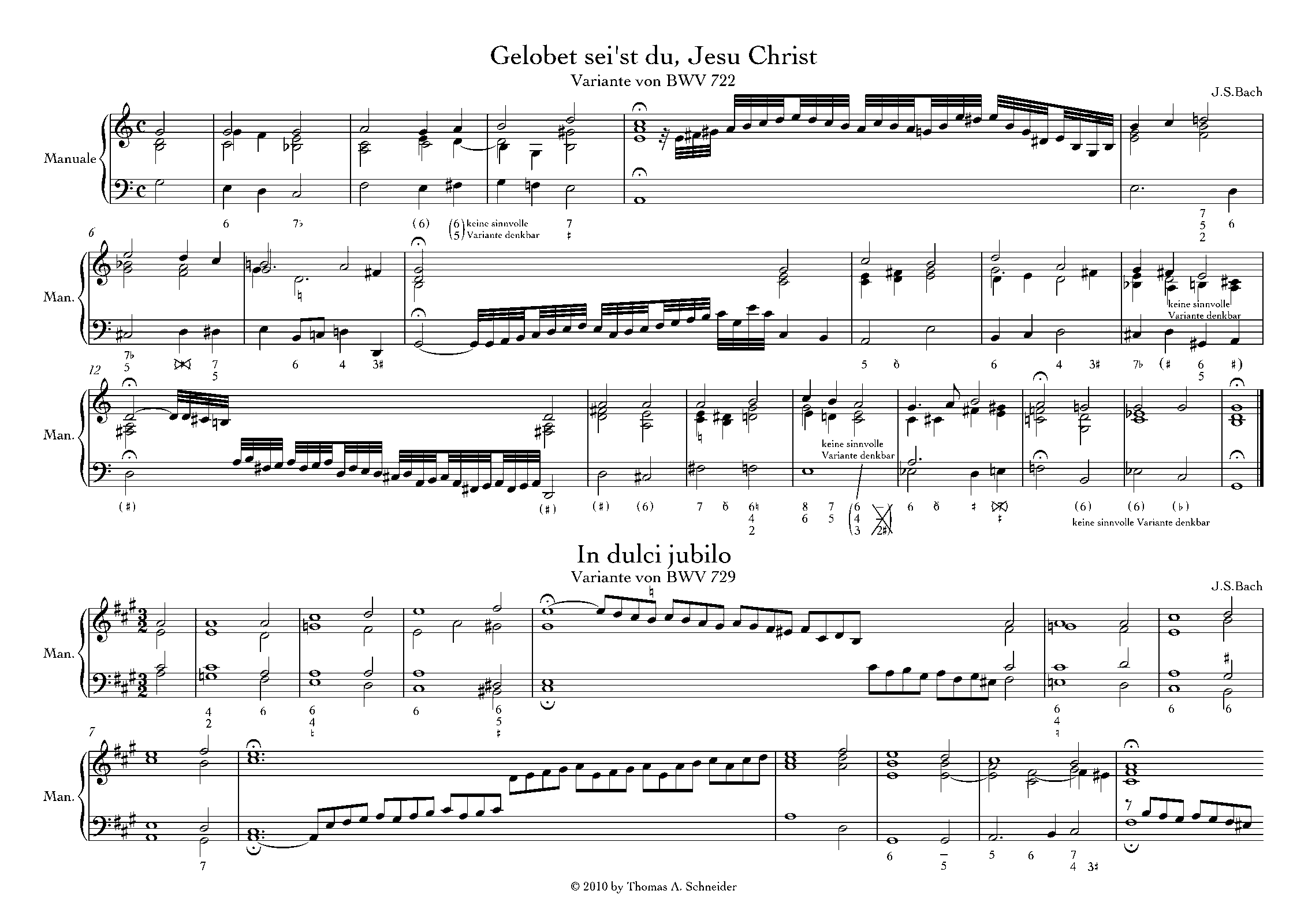 aktualisieren? Gruß, Hobbypianist 19:48, 30 November 2010 (UTC)
WoBWV
Hallo TheaterSokrates,
ich konnte nirgends irgendwelche Infos zu deinem Beitrag WoBWV finden. Woher hast Du die angeblich von Bach stammenden Werke und wie kommst Du auf Bach als Autor? Ich habe neben Schmieder auch in der Bach-Datenbank nachgesehen und keinen entsprechenden Eintrag gefunden?! --TobisNotenarchiv 22:03, 20 December 2010 (UTC)
Hi Thomas,
The instrumentation categories for "Arrangements and Transcriptions" (five = signs - "For [instrument] and [instrument or ensemble]") are read by our Category Walker and should appear in English only. They will appear automatically in German and other languages after the wiki translation matrix is complete. If you add the German term it creates an unrecognized category in the instrumentation categorization system. Thanks, Carolus 05:32, 5 January 2011 (UTC)
English only has to be used for the instrumentation description (5 "=") as these are read automatically by the Category Walker. Adding them in German causes an unknown category in the Category Walker, which is actually a redundant category for the one which already exists in English. When the translation matrix is up for German, it should translate the 5 "=" instrumentation descriptions automatically. By contrast, it is OK to have the German title for the 4 "=" description, which describes the selections listed below, and to use the English description in parens (as you have done). These descriptions are not read by the Category Walker and are specific to the work itself. Thanks, Carolus 00:34, 12 January 2011 (UTC)
Editions and Arrangements - CC license
Dear Thomas,
As you have contributed so many of your editions and arrangements to this site, I wish for you to consider which version of the Creative Commons license you employ for them. The simplest version, Creative Commons Attribution 3.0 allows for the unlimited distribution of the files uploaded as long as the composer is credited and you are credited as the arranger or editor. This includes the commercial distribution of such scores on sites like Ebay. If, like most arrangers and editors, you wish for the distribution to be limited for non-commercial use, you should consider using instead the Creative Commons Attribution Non-commercial 3.0 license, as it permits only free distribution for non-commercial purposes. It is an easy matter to change the license for all of the items you've already uploaded, just copy and paste Creative Commons Attribution Non-commercial 3.0 into the copyright field. With Best Wishes, Carolus 03:50, 24 January 2011 (UTC) (IMSLP Copyright Admin)
Arrangements
Dear Thomas,
All arrangements go on the page for the original work. Please do not create new pages for arrangements of Mozart, for example. Instead upload your arrangement to the appropriate page. Your arrangement for String Trio for Mozart's KV 279 Piano Sonata is now here. Thanks, Carolus 00:36, 12 February 2011 (UTC)
Adding pictures
Hi Theatersokrates. Instead of adding a link to the picture on IMSLP:Composer Template/en, one actually has to do it on the composer page if one wants the picture to appear. The file also needs to be uploaded here first :-) Thanks, KGill talk email 21:37, 13 March 2011 (UTC)
Messiah (Handel)
Dear Thomas,
We normally do not put translations of texts in the section-description fields, but use the original language (there are some exceptions to this rule - like the Bach arrangements you made, but they are somewhat rare). Thanks, Carolus 06:38, 19 March 2011 (UTC)
Zelenka picture
Hi Theatersokrates. Just to let you know, I have removed the picture you uploaded of Zelenka because it is (I think) actually of Johann Fux; there is no known portrait of Zelenka (see Wikipedia). Thanks, KGill talk email 18:16, 29 May 2011 (UTC)
Zelenka
Far as I know and as jdzelenka.net knew last I checked, we have no images of Zelenka to go by. Where's the one you posted from? Eric 19:47, 29 May 2011 (UTC) (as he said. *points up*)
Recordings
Hi Theatersokrates. Please do not upload recordings of works that were created using MIDI or a notation software package like Finale or Sibelius - it is against IMSLP's audio file policy to have such files here. I will therefore have to delete the few files like this you have uploaded thus far. Sorry, KGill talk email 00:40, 6 June 2011 (UTC)
Dear Thomas,
It has come to our attention that this work was first published in 2007 by Hofmeister. While no editio princeps claim can be made for the piece in Canada or the USA, it is protected until 2033 in the EU. You will need to check if it is legal for you under German law to publish a work of this nature abroad when it is covered by editio princeps in the EU. Let me know if you want me to take it down or not. Thanks, Carolus 06:36, 13 June 2011 (UTC)
Bei der Hofmeister-Ausgabe handelt es sich um das Konzert für Flöte und Oboe in e-moll.Notenschreiber 07:03, 13 June 2011 (UTC)
Dear Carolus, the Hofmeister edition contains the concerto for flute and oboe in e minor(as Notenschreiber has remarked), so I would propose to take down my edition of this concerto only for the EU, but not for US and Canada. Is such a procedure possible? Thanks for your hint! Thomas
Yes, of course. Sorry for the confusion. The Violin and Oboe concerto was issued in 1963 so there is no problem there. Carolus 20:07, 13 June 2011 (UTC)
Arrangement designations
Dear Thomas,
Please do not modify the arrangement page-hierarchy designations as you did with the Mozart Piano Sonatas today. The third-level descriptions =====For Orchestra (Schneider)===== are read by the category walker and adding your first name to the name credit in parens just makes it more difficult, along with introducing an inconsistency in the entire labeling system. Your name as arranger is already linked to your personal category page, so this is not needed in any way. Thanks, Carolus 03:35, 23 June 2011 (UTC)
Wassenaer
Nice to have these! Thanks! Carolus 02:50, 9 August 2011 (UTC)
Organ sonata BWV 526
Dear Thomas,
Thank you for your digital engravings of Bach's trio sonatas. I presently work on the C minor and I find your file aesthetically pleasing and convenient to use. Can I ask you which source(s) you used ? While I am no musicologist and am not used to read Bach's handwriting, I compared your file to the manuscript and found some dissimilarities. For example, I clearly see a B natural at left hand measure 25. I am also perplexed about the half-note at the pedal m. 52 ; the kind of rest after the G at left hand m. 62 ; and the double-notes at m.36 and m.76.
Thank you for sharing your thoughts.
--lilaspastia, QC, Canada 03:52, 17 August 2011 (UTC)
Dear Lilaspastia,
thanks for using my edition of Bach's organ sonata No.2. You're right, in bar 25 (left hand) are two B naturals requested. I have corrected this. Thanks for the helpful hint. The other remarks you made are not comprehensible for me. Did you talk about another sonata? And what movement did you mean? Perhaps the file is wrong displayed at your computer? Please let me know your email addy, so we can discuss the questions closer. Or write a message to: thomas-a-schneider@gmx.de
Sincerely: Thomas
---
Dear Thomas,
Thank you for your answer and your correction. While rehearsing, I noticed that a third B natural was also needed at the right-hand, in measure 26.
As for the other questions, I am sorry if they were not very clear. I indeed referred to the same movement of the same sonata in the manuscript available on IMSLP. With some afterthoughts, I came to realize that they are probably small mistakes made by Bach himself.
In measure 52, at the pedal, there is a half-note (C) instead of a whole note, filling just half of the measure. However, the line next to it seems to be a tie and not a half-rest.
In measure 62, at the left-hand, the second note (after G) looks a bit like a quarter-rest. From symmetry, however, it is clear that it is indeed a C.
The last case is more interesting. In measures 36 and 76, Bach wrote two notes in the left and the right hand, respectively. I think this was to respect the rule (from my college notes) saying that an inverse seventh chord must always be complete (ie. have the four notes), which is impossible in a trio sonata texture. These small notes can be found in the Bach-Gesellschaft-Ausgabe. Personally, I would rather play only the C in measure 36 and the Ab in measure 76.
By the way, I was impressed by your arrangements of the Partita no.4 and the English Suite no.3. Were they performed ? I you ever do an arrangement of the Goldberg variations for organ, let me know ! --lilaspastia, QC, Canada 21:33, 19 August 2011 (UTC)
---
Dear Lilaspastia,
thanks for your explanations. Now it's clear what your "problems" are. Indeed in measure 26 there must be a B natural in the right hand too. Sorry about it!
Re. In measure 52 we find - I think - a laxity by Bach himself, so we can read a whole note tieed to a half note in measure 53 (full organ point). Re. Measure 62 is a bit difficult to read but I am convinced that it must be like I wrote it (other editions read this passage similar). Re. The two passages with double notes in the right hand: I suggest for measure 36 a C (I will correct this) and a Ab in measure 76 (same as you think). (for explanation: in both cases the voice leading is better in this version). I find it interesting that Bach himself lets the choice to the organ player. So I have corrected those two things and send you the "newest version" which is uploaded at the same time.
It's an interesting idea making an organ arrangement from the Goldberg-Variations. This is a rather huge task. Do you want me to try this? Feel free to let me know!
My arrangements after Partita in d major and Suite in g minor were performed in 2000 (Bach anniversary), but I was not very content with this and no recording was made. Nevertheless I hope that one day a good orchestra will have compassion with the arrangements...
Sincerely, Thomas
Arrangements
Hello Thomas, When you are the arranger, it is normally understood that you are also the editor, just as a composer uploading his own work is understood to be the editor. It's therefore sufficient to simply list your self as "arranger" and omit the "editor" field altogether. Your Bach arrangements have been a very nice addition to this archive, so we look forward to more! Best Wishes, Carolus 02:55, 7 November 2011 (UTC)
...
Dear TAS, Is there any possibility that you publish your Lilypond scores on Mutopia perhaps? Specifically, it would be great to be able to transpose the 6 organ sonatas for saxophone trio (SAB), which so far I've done manually, but seeing as you typeset them into Lilypond, it would be much more beautiful and easy to transpose them in that way. Please let me know, I'm also reachable here: js@yashi.org
Thanks!