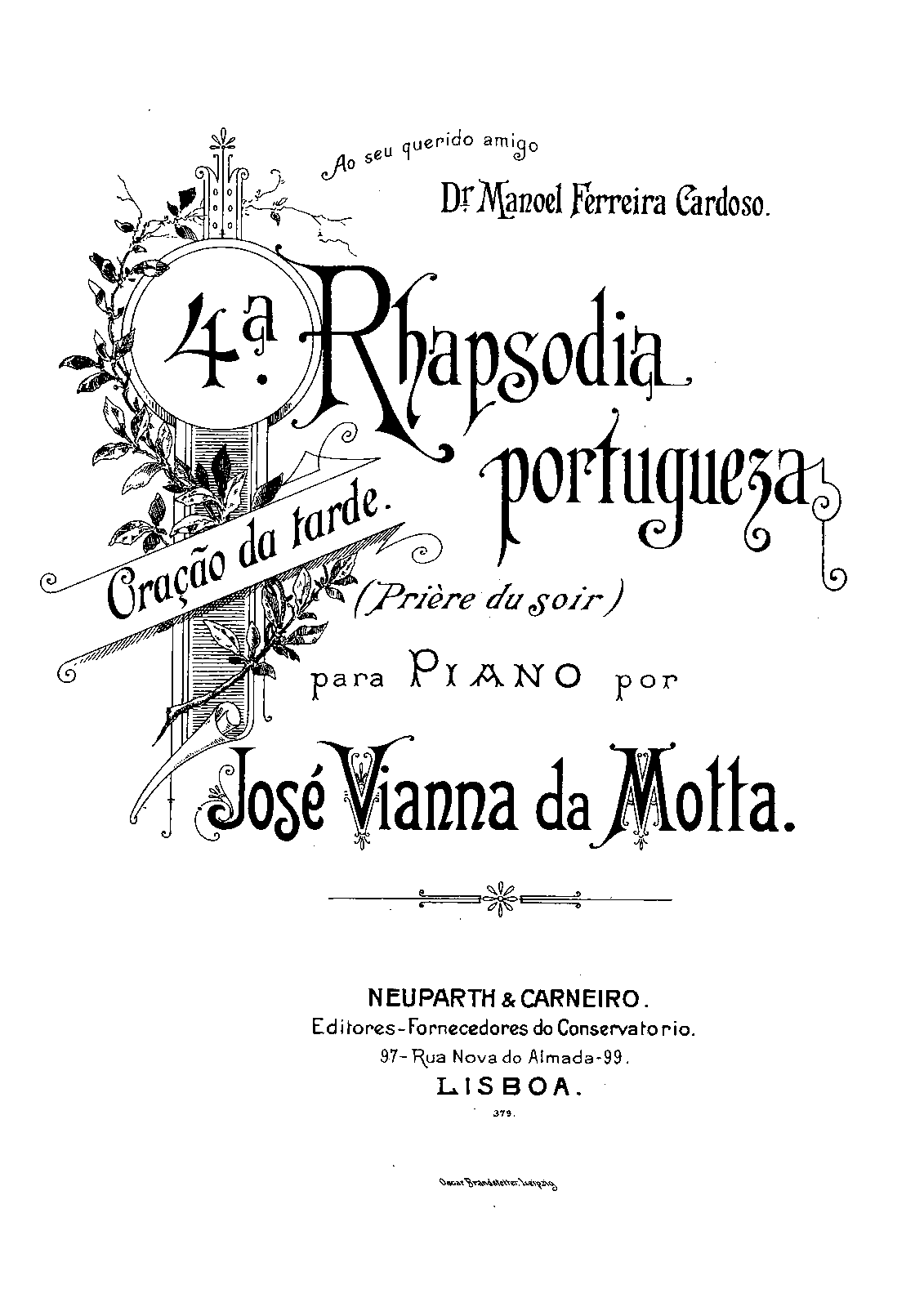 History
The music instruments and scores company Salão Neuparth was founded by Eduardo (Erdmann) Neuparth (1784-1871), a German settled in Lisbon. He was the father of Augusto Neuparth (1830-1887), who was succeded by his younger son Júlio Cândido Neuparth (1863-1919). The latter introduced Ricardo Felgueiras to the firm, thus turning it into Neuparth & Ca. This was followed by Neuparth & Carneiro. After the World War I the firm was acquired by Valentim de Carvalho, Lda.
Most of the scores were engraved by Oscar Brandstetter (Leipzig).
Editions
Amphion, publicação quinzenal de musica para piano (1880s, issued no less than 4 years)
Imprints, Addresses, Agencies
Imprints
Augusto Neuparth
A. Neuparth, Editor-Fornecedor do Conservatorio
Neuparth & Carneiro, Editores-Fornecedores do Conservatorio
Addresses
Rua Nova do Almado, 97-99
Plate Numbers
Dates in italics are estimated.
###
A.N. ###
| Plate | Composer | Work | Year |
| --- | --- | --- | --- |
| 98 | Keil | Souvenir de Vienne | 1882 |
| 136-139 | Keil | Impressions poetiques, Op.12 (4 books) | |
| 154 | Emilio Lami | Au soir | 1884 |
| 278 | Freitas Gazul | Grâce (Feuillets d'album, No. 1) | 1886 |
| 279 | Emilio Lami | Gentillesse (Feuillets d'album, No. 2) | 1886 |
| 280 | Keil | Beauté (Feuillets d'album, No. 3) | 1886 |
| 281 | Júlio Neuparth | Charme (Feuillets d'album, No. 4) | 1886 |
| 282 | Francisco Bahia (Baía) | Bonté (Feuillets d'album, No. 5) | 1886 |
| 283 | Guilherme Ribeiro | Jeunesse (Feuillets d'album, No. 6) | 1886 |
N. & Ca. ###
| Plate | Composer | Work | Year |
| --- | --- | --- | --- |
| 379 | Vianna da Motta | Rhapsodia portugueza No.4 | 1895 after |
| 396 | Francisco Bahia (Baía) | A Briza | 1889-91 |
| 497 | Francisco Bahia (Baía) | Mais um fado | 1911 |
| 498 | Milano | Liró | 1908 |
| 499 | Júlio Neuparth | Sonatina-fantasia, Op.49 | 1900s |
| 551 | Júlio Neuparth | 3 Petites pièces | 1910s |
Authority Control
Sources Consulted