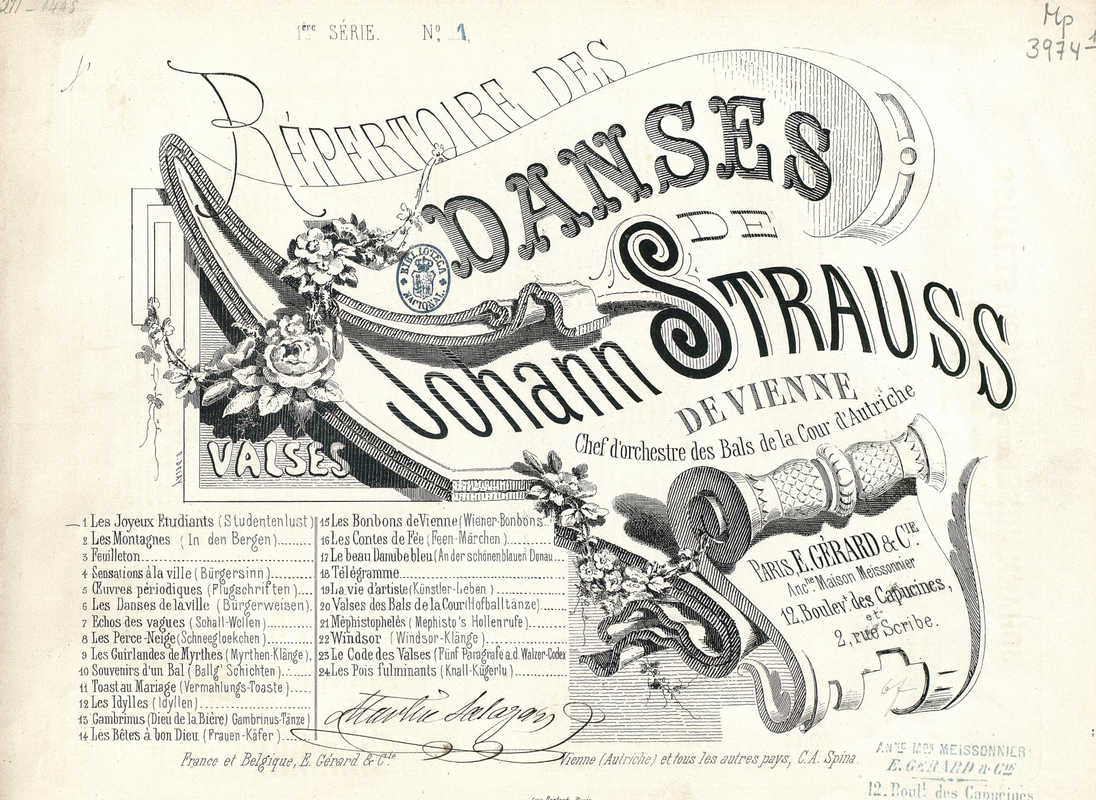 History
Viennese family of music publishers.

Anton Spina (1790-1857) started to work with the publisher A. Diabelli in 1824. He handled the commercial part whereas Diabelli cared for the artistic part of the company. In 1850, Carl Anton Spina (1827-1906), son of Anton, became part of the firm as a third associate and soon led the company on his own after the retirement of his father and Diabelli in 1851. In 1872, Friedrich Schreiber acquired the Spina company, then merged with the publisher August Cranz in 1876. Shortly after, in 1879, Cranz became the sole owner. The composer Albert Jungmann (1824—1892) managed the firm from 1853, before founding his own company, Albert Jungmann & C. Lerch, probably in the 1870s.

Friedrich Joseph Spina (1791-1836), brother of Anton, published some of his own compositions in Vienna.
Important acqusitions
Editions
Imprints, Addresses, Agencies
1824-1851: A. Diabelli & Comp.
1851-ca.1870 : Wien, C.A. Spina, Verlags- u. Kunsthandlung
ca. 1870-1872: C.A. Spinas Nachfolger
Plate Numbers
Spina's plate numbers were issued in a regular chronological fashion. Plate numbers are in the format of C.S. ####. Dates in italics are estimated.
| Plate | Composer | Work | Year |
| --- | --- | --- | --- |
| | Ernst | Grand Caprice sur 'Le Roi des Aulnes' de Franz Schubert, Op.26 | 1854 |
| 10410 | Schubert | String Quartet No.13, D.804 | 1855 |
| 17944 | Engel | Harmonium-Schule | 1860 |
| 18146 | Strauss Jr. | Studentenlust Walzer, Op.285 (piano solo) | 1864 |
| 18655 | Mikuli | Mazurka, Op.11 | 1866 |
| 19051 | Schubert | Fierabras, D.796 (overture, full score) | 1867 |
| 21722 | Goltermann | Capriccio über slavische Melodien, Op.9 | 1869 |
| 21953 | Strauss Jr. | Freut euch des Lebens, Op.340 (piano solo) | |
| 22076 | Rubinstein | Piano Concerto No.2, Op.35 | 1873 |
| 22443 | Schubert | Sonata for Piano Duet, D.812 (orch. by Joachim, full score) | 1873 |
Sources Consulted
Deutsch, Otto. Musikverlagsnummern. Berlin: Merseburger, 1961.
Die Musik in Geschichte und Gegenwart. 2., neu bearb. Ausg. ed. Ludwig Finscher. Kassel: Bärenreiter, Stuttgart: Metzler 2006. Personenteil Bd. 15, S.1183
Authority control
Links